ASM Materials Camp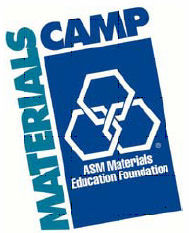 4th Annual ASM Materials Camp
VISION
: A one day program to excite and encourage young people to pursue careers in materials science and/or applied science and engineering disciplines.
WHEN
: Monday May 11, 2009 8:30-3:30
WHO
: The camp is open to HIGH SCHOOL Sophomores and Juniors in the New England region.
WHAT
: Students selected for this one day Materials Camp will participate in various learning areas designed to demonstrate the nature of materials and how materials are engineered through processing to perform as desired.
COST
:
No charge. Please Note: Transportation must be provided by the participants.
APPLY
:
Space is limited so apply as soon as possible!
Application submission closes April 24, 2009
To apply, please visit:
http://www.asm-ma.org/2009-ASMMCNE-application.html
For more information on Materials Camps, visit:
http://asmcommunity.asminternational.org/portal/site/www/Foundation/Students/
Sponsored by the Boston, Northern New England, Rhode Island and Worcester Chapters of ASM International and The ASM Materials Education Foundation
Labels: engineering, events, students